Have you ever asked by your co-staff or your manager or an interviewer during your job interview for example these words "How to verify a non-conformance?" I wrote this because it would be a possible question for you.
Sometimes when you found a problem at site and you find yourself thinking "Is this a non-conformance?" and you'll start asking yourself "Do I need to issue Non-conformance Report for this?"
Seriously, it is a question that somehow has crucial answers but here let me give some tips  on "How to verify non-conformance" if you found it in your ongoing project. Please keep in mind that non-conformance can happen during the progress of work or during the delivery of any kinds of construction materials on site. I wrote on this article how-to-close-a-non-conformance-report-ncr on how to identify a non-conformance and to close as well.
Here are 4 tips that you might want to consider on how to verify a non-conformance when you found it in your site.
1. Check the latest update of drawings. Once you see a non-conformance like for example in the ongoing fixings of steel reinforcement in the footing or the size of footing is not as per the drawing you are checking with, think about re checking the latest revision of the drawing you are using maybe, it is not the latest one. That's the way to verify.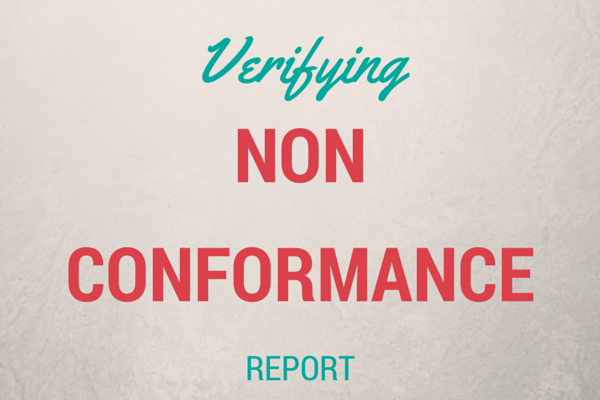 2. Verify the material submittals. When you see a material on site that seems to be not yet submitted, because sometime due to time constraint of the project the construction team will bring material which are not yet submitted but their plan is to submit later. So if you notice those material verify immediately with the submittals if it submitted or in the revise and resubmit status. Once you've verified that the material has no records yet and even not submitted yet you can then issue a non-conformance.
3. Recheck the elevations with Surveyor. If you have doubts in the elevations being established by the Surveyor on a particular area of the structure like the bottom of blinding, you can verify from the elevation or coordinates drawing and bring the Surveyors to site to verify the established elevation by peeping of your own eye from the dumpy level.
4. Verify the Concrete Design Mix. One time I received few trucks of fresh concrete  during our concrete pouring at night then when we took a sample of fresh concrete it was a bit different color than usual and when we took the slump, it was higher than what we expect as per design so there is something wrong, it indicates non-conformity. So, then I took the delivery note of the concrete and verify it from the approved design mix, I found that the delivered concrete was  not as per the design mix.
Those are few tips on "How to verify suspected non-conformance on site." If you have some suggestions and comments please write it down on the comments box below. You may subscribe above to get new post direct into your inbox.
If you liked this article, please share to your preferred social networks below 🙂 Thank you!