In the construction, there are several kinds of documents that you will encounter and produce as well, such as method statement, checklist, forms of different kinds, but the Inspection & Test Plan or ITP is the most important that you'll have to make first. Why? Because ITP is the book of each inspection and testing on your project.
In my first job in Dubai, I have seen an ITP that consist of all the work inspections. It was like compacted in one document. It was like a general ITP, but it is not really challenging, the best ITP that I would discuss here is that an ITP of each work like ITP for Excavation Works, ITP for Concrete Works, ITP for Block Works etc.
If you are a newly assigned quality engineer in an ongoing project and you found out that they were not producing ITP, it will be a mess project. How are you going to monitor inspection stages, the test, the acceptance criteria, the references, etc? Without ITP, believe me or not if you'll not make it, you are going to mess out the whole project.
ITP will serve as a tracking device. After the first inspection, then you'll go to the next. By the way, the activity description that you'll going to write in the ITP that will be the title in your Inspection Request. That is why you will not really lost in your inspections. Remember that…
Now here I am going to show you how easy to prepare an ITP? I have written about "Understanding About Inspection & Test Plan" for you to understand how an ITP is made.
Here are the steps to do "How to prepare an Inspection & Test Plan." And you could follow and apply to your project.
1. Read Specification.
When you want to start writing the ITP, you must firstly read the specification of the work that you are going to make an ITP for. Like "Block Works" you should read carefully the whole specification, not only once, but twice or much better, several times because there are terms sometimes that you have to understand well. During your reading, you can highlight the important terms so that when you come back you can immediately track it.
The specification is your basis for writing ITP.
2. Drawing, Method Statement & Material Submittal.
Make sure that the drawing is approved, if not, make sure that it is being submitted to the consultant because that will be incorporated in the ITP as preliminaries. The same with the method statement and material submittal, especially material submittal, there are some works that you'll going to use the technical data of a material and you are going to pick some acceptance criteria's from there. You will learn later in the next article how to identify and write the "Acceptance Criteria."
3. Define Activity Description.

You could ask yourself by saying "What could I inspect in the first place?" In the specification that you've just read many times and perhaps you'd found this word "preparation or examination" that could be a hint of an activity that you are going to inspect first before the succeeding activity proceeds. You can see the sample of this article Understanding About Inspection & Test Plan.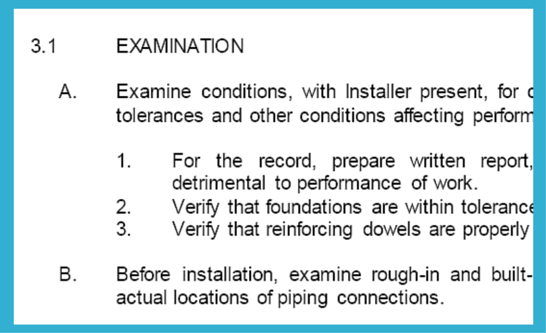 Second, the word "Installation or Completed work" that would be your succeeding inspection. Like for example in the activity of block works, before the placing of a first level onto the slab, inspection shall be done first for surface preparation. So your activity description will be "Installation of block."
And third, if you find the word "Test" this one will be another an activity that you should write. If the activity, for example, is block works, then that's usually written in the specification "test of block sample" or sometimes "test of mortar."
If you enjoyed reading this article, share with your favorite social network and please subscribe above to get new posts direct into your inbox.