Bar bending schedule also referred to as BBS, is a comprehensive list of reinforcement bars that describes the location, mark, size, type, number, length, and bending details of each bar in a reinforcement drawing. The actual process of listing the type, size, location, the number and the other details is what is referred to as scheduling. In other words, bar scheduling is a way of organizing bars for each structural unit by giving details about the reinforcement requirements.
How Bar Bending Schedule Is Used
By using bar bending schedule, cutting and bending of reinforcement bars can be done at a factory and later delivered to the job site. Ordinarily, it will require several workers and special equipment for reinforcement bars to be cut or bent right at the construction site. But with the bar bending schedule being carried out at the factory, this will be easily done and it will reduce the time and construction costs. Additionally, bar bending reduces helps in the reduction of the wastage of steel during the cutting and bending process. This greatly reduces the project costs.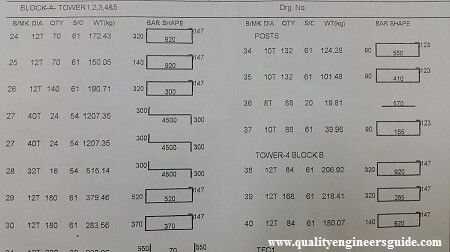 When bar bending schedule is applied for Fe500 deformed bar, it will save 10 percent excess steel reinforcement. This means that if you are using Fe500 bars for your construction, you will end up saving a lot of steel that could be used for other purposes. This will help in cutting down construction costs for your project.
Quality control is improved at the job site
With bar bending schedule, the quality control at the site gets better. This is because reinforcement is done and completed by the bar bending schedule that is developed using the required detailing standard codes.
Bar bending schedule can be used to ensure that the estimates for reinforcement steel are done in a superior manner towards a single structural unit. The unit can be used to come up with a complete reinforcement require for the entire project. This will also reduce wastage of time and resources hence reducing the project costs.
Ease of Checking
Once the steel reinforcement arrives on site it can be easily check using the bar bending schedule. The quality inspector or quality engineer shall directly go through the schedules and compare to what has arrived on site. Proper tagging shall be properly made by the supplier of the steel rebar to supplement the fastest way of checking.
BBS can also be used for better-quality stock management for reinforcement bars. It makes it easier for the quantity of the steel that will be needed for the next phase of construction to be computed in an easy and perfect manner. It makes the procurement process easier and effective. This will prevent unnecessary storage of additional reinforcement steel bars at the construction site. You will only procure steel reinforcements that are required for a particular construction stage.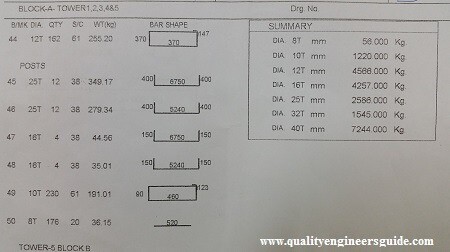 Bar bending schedule checks the scarcity of reinforcement bars for running projects. With proper and timely estimation, the project will achieve easy and steady progression and it will give room for concrete construction to go on as planned.
Bar bending is useful when it comes to auditing of the reinforcement. It provides for checks on theft, which is a common practice in most construction sites as well as pilferage. You will have the exact number of reinforcements you procured and also know the length and size of the remaining bars. This is important to the contractor as well as the project owner as it gives them the exact quantity of reinforcements used in the project.
BBS makes it easier for site engineers to check, verify and approve the bar bending process and cutting length before placement of concrete. This ensures quality control at the site. It is through bar bending schedule that a structural engineer can detect faults in the construction and make necessary adjustments.
The bar bending schedule can also be used for cutting, bending and making the skeleton of the structural unit before it is placed at the right position. It gives the engineer an idea of what to expect once the structural member is complete.
It is without a doubt that bar bending schedule is vital in construction and without it, It will be tough to lay reinforcement on a particular construction site.
Quality Engineer Tips:
º Make sure that upon receipt of steel reinforcement the mill test certificate is attached. Don't ever accept if MTC is missing.
º Conduct physical test such as diameter, length, and malleability of the steel.
º If is first delivery of steel, ensure to take samples to conduct 4 steel bar reinforcement test.
Do you check steel rebar using bar bending schedules?  Do you have suggestions for bar bending schedule? Type in your comment in the comment box below.